Does Your Community Qualify?
Attractive Gateway Signage
Designed in collaboration with city officials; beautifully constructed with architectural landscaping themes that aesthetically fit the community.  Static displays of the city seal and  top quality, high resolution LED faces.
City notices to the public are guaranteed to reach a wider audience. Recurring events can be updated in real time with multiple messages in rotation. City officials will have portal access. Showcase all of the Community Events, County Fairs, Nonprofits and City Hall meetings
Economic Growth & Tax Revenue
Affordable to all businesses to advertise and help grow the local economy. Local businesses marketing will promote additional spending that will increase the tax revenues.
Flexibility to showcase multiple ads displaying all services and products for a company. Ads can easily be modified to showcase sales, seasonal updates, and ever-changing branding. Ads hold for a static 6-8 seconds. We voluntarily provide standard ad prohibition language limiting sensitive and political messaging.
Endless Communication Possibilities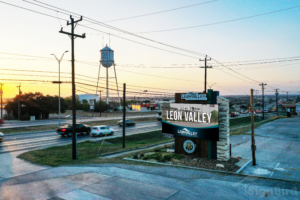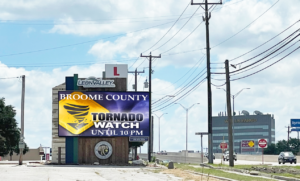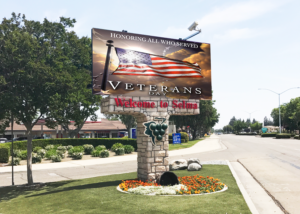 "City Officials are excited to partner with CEIS…The most exciting aspect of the technology is that Amber Alerts can include photos that are critical to help bring children home. This is a major win for Henderson as it solves so many of our needs."
"We are pleased to offer our highest recommendation of the CEIS organization to any municipality…at zero cost to taxpayers, [CEIS] designed a beautiful gateway way sign on Bandera Road."
"Now the city is able to put up timely messages than we need to get out to our public…[CEIS] has provided an affordable advertising resource for the local businesses which has improved sales…and thereby increased the sales tax returns…"
Frequently Asked Questions
CEIS is a family and veteran-owned digital sign company with over 40 years of experience. We build iconic gateway signage that assists municipalities in reaching their citizens with vital messaging, as well as provides a unique marketing vehicle to help local businesses grow and thrive, all at NO COST to taxpayers.
For qualifying communities, we build, operate, and maintain gateway signage at ZERO COST to your community. No upfront investment, no ongoing fees, no taxpayer money. Period.
CEIS gateway signs not only provide needed branding for your community, but a portion of the airtime on all signs is given to the city for a variety of civic and emergency management uses. Promote meetings, events, safety notices, construction updates – there is no limit to what the city can do with their space. The remaining airtime is offered for advertising and other promotional needs at rates affordable for most any business's budget.
In a time of declining radio and TV advertising, and the prohibitive cost of traditional out-of-home, CEIS signs provide a new unique way for local businesses to reach their audience, gain new customers, and help grow sales tax revenues.
We are aware of the dangers of distracted driving and we want to increase the safety on the road and for all drivers who pass our digital billboard sign. To ensure a high level of safety we do the following: 
Never display flashing transitions or moving video/animations 

Use light sensors as well as computer clocks to automatically dim and darken our signs by 95% from dusk to dawn, ensuring signs are not bright at night.

Follow all stringent state, county, and local regulations
We amplify the safety of the community and surrounding areas by displaying messages that need to be communicated to the local area: Weather alerts, Amber alerts, Blue alerts, Silver alerts, Construction updates and Road closures.